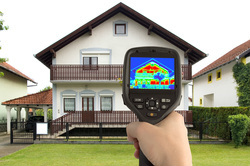 Infrared / Thermal Imaging


Our inspectors are trained and equipped with state of the art thermal imaging Infrared (IR) cameras. These cameras are key in exposing defects that are hidden to the human eye. Some of the hidden defects our inspectors expose with the use of our infrared cameras are air leakages and infiltration, lack of insulation, moisture intrusion and damages, and most importantly electrical fire hazards hidden behind walls.

The cameras read surface temperature and display temperature difference in vivid colors. Our inspectors are trained and experienced in accurately interpreting thermal images to pin point hidden defects and problems.

This service is an added feature of our Whole House Home Inspection package.


---